Choosing Whether to Install Wired or Wireless Security Cameras For your Home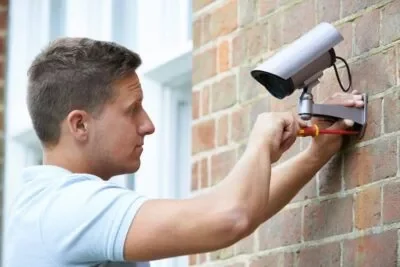 A wireless home security camera, sometimes referred to as a Wi-Fi camera, is powered by AC power and broadcasts video via Wi-Fi. This indicates that a power cable must be used to connect it to an outlet. A wireless camera utilizes wireless internet, not because it is wire-free; instead, it is termed a wireless camera (Wi-Fi). A wireless camera turns becomes a wire-free camera when it is powered by a battery.
You can view the video from wireless home security cameras from anywhere since they often save it on a cloud server. Some cameras include a micro SD card that may be used to save videos locally. Because wireless cameras are simple to set up and watch on a computer or smartphone, they are widely used.
While most wireless security cameras only record when motion or sound is detected, some may be programmed to record continuously if they are hooked into electricity. They can record in the dark if they have night vision and take high-resolution video. Additionally, they often have two-way audio so you may converse with the person the camera is watching. Last but not least, some designs include machine learning, a technique that enables cameras to do helpful tasks like notify you when they see a person or package.
Wired home security cameras: What Are They?
A DVR (digital video recorder) security system, commonly referred to as a connected home security camera system, combines cameras with a recording device. Four cameras are typically used, however up to sixteen may be used. They are hooked to the internet and to electricity, have a 24/7 recording capability, and a remote viewing capability.
Traditional DVR systems and more recent NVR (network video recorder) systems are the two different kinds of connected home security camera systems. While NVR systems utilize Ethernet connections to power the cameras and record video, DVR systems use coaxial cables to do both of these things. An Ethernet cable may be used to link both DVRs and NVRs to the internet.
Compared to DVRs, NVRs are more sophisticated and able to record video of a better quality. The same characteristics that wireless cameras offer, such two-way communication and human recognition, are also included in NVRs.
A wired home security system's included cameras are powered by the DVR or NVR and don't need an electrical outlet. However, you may also connect a computer display to the recording equipment to see recordings and real-time feeds. Most wired systems feature an app for viewing video on your smartphone.
What Benefits and Drawbacks Do Wireless Home Security Cameras Offer?
Pros:
simpler to install and modify

often simpler to use

often include cutting-edge technologies like machine learning

Use cloud storage often so you may access your film from anywhere.
Cons:
charge monthly for cloud storage

Due to its dependency on Wi-Fi, it sometimes has patchy video quality.

Batteries must be replaced on a regular basis.

is vulnerable to hacking
Benefits of Wireless Security Cameras for Homes
The fact that wireless security cameras are significantly simpler to install than wired ones is one of its main benefits. They may need to be mounted to a wall or ceiling using a drill, but other than that, installation is simple; all you have to do is plug it in and use the camera's mobile app to connect to your Wi-Fi network.
The usage of wireless security cameras is also quite straightforward. On a smartphone or tablet app, you may simply navigate through a timeline view of events prompted by motion or sound and watch live or recorded video. The app also allows you to download film that you wish to save for a long time and adjust your camera's settings.
Advanced features on wireless cameras are also backed by cutting-edge software and machine intelligence. According to Jeff Welch, a former correctional officer and founder of Grab The Axe security consultants LLC, wireless cameras can tell if there is a human or an animal in your yard or whether someone is repeatedly strolling back and forth.
Some wireless cameras include built-in memory that allows you to record video straight to a micro SD card. If your camera is battery-operated and has local storage, it will continue to record even if your power and internet are down.
You can save more footage for longer than you can with a wired system since the majority of wireless cameras utilize cloud storage. There may be a cost for certain cloud providers that provide up to 60 days of video.
Due of their ease of installation and removal, wireless cameras are a fantastic option for tenants. They are a wonderful choice if you anticipate needing to move them in the future because to their adaptability.
Cons for Wireless home security cameras
One of the biggest drawbacks of wireless cameras is the monthly payments. Most depend on cloud storage, which costs money in the form of a subscription. Additionally, accessing other services like person detection could incur a cost.
Only as good as your home Wi-Fi network are wireless cameras. You can have hiccups, video delays, and camera freezes if your Wi-Fi is too sluggish or your camera is too distant from your network. At times, poor Wi-Fi may even make it impossible to watch a camera's live feed.
The quality of your video stream will deteriorate or improve depending on your internet access, which is another problem with wireless cameras. Even if you have 1 GB of internet speed, the quality of your Wi-Fi will change depending on a variety of external conditions. For instance, the quantity of neighbors using the internet at once or radio interference from other wireless devices in your house may also degrade video quality. As a consequence, occasionally just 720p (not even full HD) footage from your 4K cameras will be sent since there isn't enough bandwidth to provide better quality video. See who provides the fastest internet in your region by checking out our ranking of the Best Internet Service Providers of 2022 to prevent these problems.
The placement of wire-free cameras is quite versatile, but you must either connect them to a solar panel or remember to recharge their batteries. Unless you have a backup battery that you can switch out, Welch adds, "if you have to take out a battery to charge it, it leaves that region open." Furthermore, wire-free cameras can't record continuously without rapidly depleting their battery life. As a result, you can miss important events since they only record for brief periods of time (10 seconds to five minutes, depending on the brand).
Wireless cameras may be hacked since they enable remote access and direct internet connections, endangering your security and privacy.
Problems with Wired Home Security Cameras
Although the setup expenses for a wired camera system will often be greater, the cost of the equipment may be lower than for a similar wireless system. That's because, unless you're comfortable pulling cables through walls and along ceilings to connect to the main recording equipment, expert installation is probably required.
When compared to wireless cameras from companies like Ring, Nest, and Arlo, the applications and software utilized by wired systems are sometimes not as sophisticated or user-friendly. Furthermore, many wireless cameras are compatible with virtual assistants like Google Assistant and Amazon Alexa, but tethered cameras are not. Most DVRs have limited storage and can only record video for seven to 14 days before they must be erased, so you may also need to set up a computer monitor to see your recordings.
Wi-Fi is required for wireless home security cameras, but is it necessary?
Wi-Fi is often needed for wireless home security cameras to connect to the cloud and store video. Some people can, however, design their own private local wireless network that doesn't transmit over the internet. Others may keep video on the camera itself and only transmit it to the cloud through Wi-Fi at your request. The video from wireless cameras cannot be seen outside the house without an internet connection.
Using cellular data is one method for connecting a camera to the internet without Wi-Fi. However, since cellular connections are slower than Wi-Fi and can only send so much data, they are more costly and have worse video quality than Wi-Fi-capable cameras.