Introduction
While 2017 was globally hailed as the year of cryptocurrency, in Singapore, it was also the year when blockchain technology started making waves in various sectors, including renewable energy. With the city-state's focus on becoming a Smart Nation and its commitment to sustainability, blockchain technology has found a unique application in the solar energy sector. This article aims to explore how blockchain is revolutionising solar energy distribution and management in Singapore.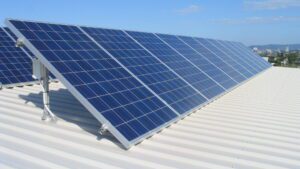 What is Blockchain Technology?
Blockchain technology is essentially a secure and distributed database, or ledger. In the financial sector, it allows for the global transfer of cryptocurrencies like Bitcoin without the need for bank validation. However, its applications extend beyond just cryptocurrencies. In Singapore, blockchain is being explored for its potential to disrupt traditional energy distribution models.
The Conventional Energy Problem in Singapore
Singapore has traditionally relied on imported natural gas for its energy needs. However, with the increasing adoption of solar energy, especially among HDB flats and commercial buildings, the limitations of the existing, centralised energy distribution model are becoming apparent.
The Disruptive Potential of Blockchain in Singapore's Energy Sector
Just as Airbnb and Uber disrupted the hospitality and transportation sectors by creating distributed networks, blockchain has the potential to revolutionise Singapore's energy sector. It can transition the country from a centralised to a decentralised energy distribution model, making it more efficient and sustainable.
Solar Energy Exchanges in Singapore
Several companies in Singapore are already working on creating platforms where individuals can buy and sell solar energy. With blockchain, this can be done securely and transparently. Imagine a neighbourhood in Singapore where HDB flats with solar panels can sell excess energy to those without. This is not a distant dream but a near-future possibility, thanks to blockchain.
How is this possible in Singapore?
Blockchain's secure and transparent nature makes it possible to track energy distribution across multiple nodes, ensuring that the system is corruption-free. This is particularly relevant in Singapore, where trust in public systems is high but the need for transparency and efficiency is ever-present.
Transparent And Secure Transactions
One of the most significant advantages of blockchain is its transparency. Once a transaction is recorded, it is almost impossible to alter, providing a high level of security. In the context of Singapore's energy sector, this means that energy transactions between households can be easily monitored and audited, ensuring fair compensation and billing.
Companies On The Move in Singapore
In Singapore, there is a surge of startups and initiatives aiming to integrate blockchain with solar energy. Companies in Singapore are already making strides in creating a more transparent and efficient energy market.
What Is In Store For The Future?
As Singapore continues its journey to become a Smart Nation, the integration of blockchain and solar energy presents numerous possibilities for disruption and innovation. While competition is fierce, the ultimate winners will be the consumers, who will benefit from a more efficient and sustainable energy ecosystem.
October 27, 2023
Categories: