10 Benefits of Installing a CCTV System in Your Restaurant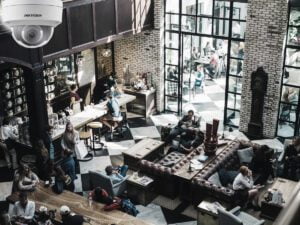 Introduction
In today's fast-paced and highly competitive restaurant industry, ensuring the safety and security of your establishment is of utmost importance. One effective way to achieve this is by installing a CCTV (Closed-Circuit Television) system. CCTV systems have become increasingly popular in various business sectors, including restaurants, due to their ability to deter crime, enhance safety, and provide valuable insights. In this article, we will explore the top 10 benefits of installing a CCTV system in your restaurant and how it can positively impact your business operations.
1. Deterrence of Criminal Activities
Installing a CCTV system in your restaurant serves as a powerful deterrent against criminal activities such as theft, vandalism, and burglary. The presence of visible cameras can discourage potential wrongdoers from committing illegal acts on your premises. Moreover, strategically placed cameras can cover critical areas such as entrances, cash registers, and storage rooms, providing an added layer of security and peace of mind.
2. Enhanced Staff and Customer Safety
The safety of your staff and customers should be a top priority. CCTV systems help create a safe environment by actively monitoring and recording activities within your restaurant. In the event of an incident, such as a dispute or altercation, having a CCTV system in place can provide valuable evidence for resolving conflicts and ensuring the well-being of everyone involved.
3. Prevention of Employee Theft
Employee theft can have a significant impact on your restaurant's profitability. By installing a CCTV system, you can deter dishonest behavior and prevent internal theft. The knowledge that their actions are being recorded can discourage employees from engaging in unethical activities, ultimately safeguarding your business from financial losses.
4. Monitoring of Operational Efficiency
A CCTV system allows you to monitor your restaurant's operational efficiency and identify areas for improvement. By analyzing the footage, you can gain insights into customer flow, staff performance, and service quality. This valuable information can be used to optimize processes, streamline operations, and enhance the overall dining experience for your customers.
5. Protection Against False Claims
Unfortunately, false claims and lawsuits are not uncommon in the restaurant industry. Accusations of slip and falls, food poisoning, or other incidents can be detrimental to your reputation and finances. With a CCTV system, you can have concrete evidence to refute baseless claims and protect your business from unjust legal consequences.
6. Effective Training Tool for Staff
CCTV footage can be a valuable training tool for your staff. By reviewing recorded interactions between employees and customers, you can identify areas where additional training may be needed. This enables you to provide constructive feedback, enhance customer service skills, and ensure consistent adherence to your restaurant's standards and policies.
One of the significant advantages of modern CCTV systems is their remote monitoring capability. You can access live or recorded footage from your cameras using a computer, tablet, or smartphone. This feature allows you to keep an eye on your restaurant even when you are not physically present, giving you peace of mind and the ability to address any issues promptly.
8. Evidence Collection for Investigations
In the unfortunate event of an incident requiring an investigation, CCTV footage can play a crucial role in gathering evidence. Whether it's an accident, theft, or unauthorized access, having recorded video evidence can aid law enforcement authorities in their investigations, increasing the chances of identifying and apprehending the culprits.
9. Improved Customer Confidence
Customers want to feel safe and secure when dining out. By visibly demonstrating your commitment to their safety through the installation of a CCTV system, you can instill confidence in your customers. Knowing that their well-being is being prioritized creates a positive perception of your restaurant and encourages repeat visits. It also helps to establish a reputation as a safe and trustworthy establishment within the community.
10. Loss Prevention and Asset Protection
CCTV systems are instrumental in preventing losses and protecting valuable assets within your restaurant. Whether it's monitoring inventory in storage areas or keeping an eye on high-value equipment, cameras can help identify and deter theft or unauthorized access. By safeguarding your assets, you can minimize financial losses and maintain a profitable operation.
Frequently Asked Questions (FAQs)
Are CCTV systems expensive to install?

No, the cost of installing a CCTV system can vary depending on the size of your restaurant and the complexity of the setup. There are options available to suit different budgets, and the long-term benefits outweigh the initial investment.

Can CCTV systems be integrated with other security measures?

Yes, CCTV systems can be integrated with other security measures such as access control systems, alarms, and motion sensors. This integration enhances overall security and provides a comprehensive solution for protecting your restaurant.

Is it legal to install CCTV cameras in a restaurant?

Yes, it is legal to install CCTV cameras in your restaurant, but it's essential to comply with local laws and regulations regarding privacy and data protection. Consult with legal professionals or security experts to ensure compliance with applicable laws.

How long are CCTV recordings stored?

The duration for which CCTV recordings are stored depends on the storage capacity of your system. Some systems retain footage for a few weeks, while others may have extended storage capabilities. It's advisable to determine your specific storage needs based on your restaurant's requirements.

Can CCTV systems be used for monitoring employee performance?

Yes, CCTV systems can be used to monitor employee performance within reasonable limits. However, it's crucial to establish clear policies and inform employees about the use of cameras for monitoring purposes. Transparency and proper communication are key to maintaining trust and privacy.

What happens if there is a power outage?

In the event of a power outage, some CCTV systems have backup power sources, such as batteries or generators, to ensure continuous surveillance. However, it's advisable to have contingency plans in place and consider investing in systems with power backup capabilities.
Conclusion
Installing a CCTV system in your restaurant offers numerous benefits that contribute to the safety, security, and operational efficiency of your establishment. From deterring criminal activities and preventing employee theft to providing evidence for investigations and enhancing customer confidence, CCTV systems play a vital role in the success of modern restaurants. By investing in this technology, you not only protect your business but also create a welcoming and secure environment for your staff and customers.
February 3, 2023
Categories: