The world is at a pivotal moment in the fight against climate change, and renewable energy sources like solar power have emerged as key solutions. In the sunny island nation of Singapore, solar energy holds tremendous potential. However, despite the clear benefits, there are several misconceptions and myths that surround solar energy in Singapore.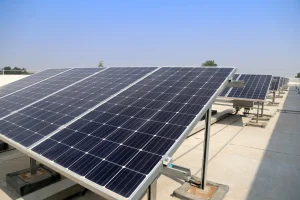 Introduction
Solar power is often misunderstood or underestimated, and debunking these misconceptions is crucial for encouraging its widespread adoption. This article will address common myths and set the record straight about solar energy in the Singaporean context.
| Myth # | Misconception | Reality |
| --- | --- | --- |
| 1 | Singapore lacks sufficient sunlight for solar | Singapore receives ample sunlight throughout the year, making it an ideal location for solar energy. |
| 2 | Solar panels are too expensive in Singapore | Solar panel costs have significantly decreased, and government incentives make them financially viable. |
| 3 | Solar panels require high maintenance | Solar panels are low-maintenance and built to withstand Singapore's climate conditions. |
| 4 | Solar energy is only suitable for residential use | Solar power is adaptable for residential, commercial, and industrial applications. |
| 5 | Solar panels are aesthetically unpleasing | Solar technology offers aesthetic options, such as BIPV and solar tiles, enhancing building designs. |
| 6 | Solar energy is unreliable due to intermittency | Solar installations are accompanied by energy storage systems and integrated with the national grid for reliability. |
| 7 | Solar panels are not environmentally friendly to manufacture | Solar panels have a short energy payback time and the industry is adopting sustainable practices. |
| 8 | Solar energy is not feasible for high-rise buildings in Singapore | High-rise buildings can effectively harness solar energy through innovative designs and rooftop installations. |
Myth 1: "Singapore doesn't get enough sunlight for solar power."
One of the most prevalent misconceptions is that Singapore's small size and equatorial location limit its exposure to sunlight. While it's true that Singapore does not experience extreme seasonal variations in sunlight, it receives a substantial amount of solar irradiance throughout the year. In fact, Singapore's tropical climate provides a consistent and reliable source of sunlight, making it an ideal location for solar energy generation.
Singapore receives an average of about 4.6 peak sun hours per day, which is more than sufficient for effective solar panel operation. In reality, solar panels can still generate electricity on cloudy days, and with the right technology, they can capture diffuse sunlight, further enhancing their efficiency.
Myth 2: "Solar panels are too expensive in Singapore."
The cost of solar panels has been a long-standing concern for many, but the landscape is rapidly changing. The price of solar panels has significantly decreased over the years, making them more affordable and accessible to the average homeowner or business owner in Singapore.
Moreover, the Singaporean government has introduced various financial incentives, such as the SolarNova program and subsidies for residential and commercial installations. These incentives help offset the initial investment, making solar power a financially viable choice. Additionally, many companies offer financing options and leasing arrangements that allow individuals and businesses to adopt solar energy without a large upfront cost.
Feeling inspired to make a positive change through solar energy in Singapore after dispelling these myths? First Solution Group is your trusted partner for solar panel installations. As a leading solar solutions provider in Singapore, we're here to help you turn these facts into action. Let's harness the abundant sunlight, reduce your energy expenses, and contribute to a sustainable future for Singapore. Get in touch with First Solution Group today to kickstart your solar transformation and be a part of the clean energy revolution in Singapore. Together, we can debunk the myths and embrace a brighter, greener future.
Myth 3: "Solar panels require a lot of maintenance."
In reality, solar panels are low-maintenance and designed to withstand Singapore's climate conditions. Modern solar panels are built to be robust and durable, with warranties that can extend up to 25 years or more. Routine maintenance typically includes cleaning the panels periodically to remove dust and dirt, which can impact energy production. However, this task is not labor-intensive and can often be performed by professionals as part of a regular maintenance contract.
Solar panels have no moving parts, reducing the risk of mechanical failure. This results in a system that is reliable and long-lasting, requiring minimal attention from the owner. With proper care and monitoring, a solar installation in Singapore can continue to generate energy efficiently for decades.
Myth 4: "Solar energy is only suitable for residential use."
While solar power is indeed an excellent option for residential buildings, it is not limited to just homes. Solar energy is highly adaptable and can be effectively utilized in commercial and industrial settings as well. In fact, Singapore has been promoting solar power in its industrial estates, and numerous businesses have embraced this technology to reduce energy costs and their carbon footprint.
Large-scale solar installations, like solar farms and solar panels on industrial rooftops, play a pivotal role in meeting Singapore's renewable energy goals. These installations can generate a significant amount of electricity and contribute to a more sustainable and environmentally friendly energy mix for the nation.
Myth 5: "Solar panels are not aesthetically pleasing."
The aesthetic concern surrounding solar panels is a common misconception. Many people envision traditional, bulky solar panels that might not blend well with the design of their homes or buildings. However, solar technology has evolved significantly, and there are various options available to suit different architectural styles.
Architectural integration, known as Building-Integrated Photovoltaics (BIPV), allows solar panels to be seamlessly integrated into building structures, including facades, roofs, and shading elements. These BIPV systems not only generate clean energy but also enhance the aesthetics of the building. Additionally, there are solar tiles and shingles that mimic the appearance of traditional roofing materials, providing a visually appealing option for homeowners who wish to maintain the aesthetic integrity of their homes.
Myth 6: "Solar energy is not reliable due to intermittency."
One of the most persistent misconceptions about solar energy is its intermittency. Some believe that solar power can only be generated when the sun is shining, making it an unreliable energy source. However, this myth overlooks the significant advancements in energy storage technology and grid management.
Solar installations in Singapore are often accompanied by energy storage systems, such as batteries, which store excess energy during sunny days and release it during the night or during periods of high energy demand. These energy storage solutions ensure a consistent supply of electricity and make solar power a reliable source of energy.
Furthermore, Singapore's national grid is equipped to handle distributed energy generation, including solar power. The grid can efficiently balance energy supply and demand, ensuring a continuous power supply to homes and businesses.
Myth 7: "Solar panels are not environmentally friendly to manufacture."
It is essential to consider the environmental impact of manufacturing solar panels. While it is true that the production of solar panels requires energy and raw materials, the overall environmental benefits of using solar panels far outweigh the initial energy and resource investment.
The energy payback time for solar panels—the time it takes for a solar panel to generate the amount of energy equivalent to what was used in its production—has been decreasing significantly. Most solar panels today have an energy payback time of just a few years, and their lifespan extends far beyond that.
Additionally, many manufacturers are adopting more sustainable practices and using recycled or recyclable materials in solar panel production. As the demand for solar panels grows, the industry is continually working to reduce its environmental footprint.
Myth 8: "Solar energy is not feasible for high-rise buildings in Singapore."
Singapore's iconic skyline is dominated by high-rise buildings, and many believe that solar energy is not practical for these structures. However, this myth couldn't be further from the truth. High-rise buildings can harness solar power through innovative approaches, such as installing solar panels on rooftops, facades, and even as part of shading structures.
In fact, solar panels on high-rise buildings can be highly efficient due to their elevated position, which provides a clear line of sight to the sun. With the right design and technology, high-rise buildings can significantly contribute to the solar energy generation capacity of Singapore.
If you've been enlightened by the facts and insights presented in this article and are eager to embark on your own solar energy journey in Singapore, look no further than First Solution Group. As a leading solar panel installation company in Singapore, we are committed to turning these myths into realities for our customers. Let us help you harness the power of the sun, reduce your energy bills, and contribute to a more sustainable future for Singapore. Contact First Solution Group today to start your solar transformation and join us in dispelling these solar energy misconceptions. Together, we'll bring a brighter, cleaner future to Singapore.
October 22, 2023
Categories: