How to Choose the Right Size Solar Panel System for Your Home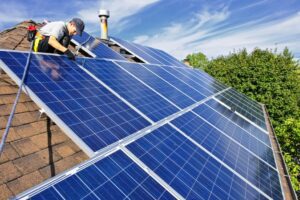 How to Choose the Right Size Solar Panel System for Your Home
Are you considering installing a solar panel system for your home? With the increasing popularity of renewable energy, many homeowners are opting for solar power to reduce their reliance on traditional energy sources. However, choosing the right size solar panel system is crucial to ensure optimal energy production and cost-efficiency. In this article, we will guide you through the process of selecting the perfect solar panel system size for your home.
1. Introduction
Solar panels harness the power of the sun to generate electricity for your home. By converting sunlight into usable energy, solar panels offer a sustainable and cost-effective alternative to traditional electricity sources. Choosing the right size solar panel system is essential to meet your energy requirements while maximizing the return on your investment.
2. Assess Your Energy Needs
Start by evaluating your household's energy consumption. Review your utility bills to determine your average monthly kilowatt-hour (kWh) usage. Consider any changes in energy usage patterns or planned additions to your home that may affect your future energy needs. This assessment will provide you with a baseline to estimate the size of the solar panel system you require.
3. Evaluate Available Roof Space
The available roof space plays a vital role in determining the size of your solar panel system. Measure the area of your roof that receives ample sunlight throughout the day. Take into account any obstructions such as chimneys, vents, or nearby tall buildings that may cast shadows on the panels. Ideally, a south-facing roof with minimal shading is optimal for solar panel installation.
4. Consider Your Budget
Establishing a budget for your solar panel system is crucial. Determine how much you are willing to invest in solar energy and calculate the payback period. While larger systems generate more electricity, they also come with a higher upfront cost. Strike a balance between system size and budget to ensure affordability and long-term savings on your energy bills.
5. Determine the System Type
There are two primary types of solar panel systems: grid-tied and off-grid. Grid-tied systems are connected to the local utility grid and allow you to sell excess electricity back to the grid. Off-grid systems are independent and require battery storage to meet your energy needs during periods of low sunlight or power outages. Decide which system type aligns with your energy goals and choose the size accordingly.
6. Calculate Energy Production
To estimate the size of your solar panel system, you need to calculate the energy production based on your location and available sunlight. Consider the average daily sunlight hours in your region and the system's efficiency. Multiply the daily energy consumption from Step 2 by the solar panel system's capacity factor, which represents the percentage of sunlight converted into electricity.
7. Analyze Solar Panel Efficiency
Solar panel efficiency determines how effectively panels convert sunlight into electricity. Higher efficiency panels generate more power in a given area, allowing you to install a smaller system without compromising energy production. Research different panel manufacturers and compare their efficiency ratings to choose panels that offer the best balance of performance and cost-effectiveness.
8. Assess Regional Climate
The climate in your region impacts the performance of your solar panel system. Take into account factors such as temperature, cloud cover, and seasonal variations. Some panels may perform better under specific climate conditions, so consult with solar experts or local installers to understand which panel types are most suitable for your climate.
Check for any available incentives, tax credits, or rebates for solar panel installation in your area. Many governments and utility companies offer financial incentives to promote renewable energy adoption. These incentives can significantly reduce the upfront costs of installing solar panels, making it more affordable to choose a larger system.
Consult with solar energy professionals or reputable installers to get expert guidance tailored to your specific needs. They can conduct an on-site evaluation, analyze your energy consumption patterns, and recommend the ideal solar panel system size for your home. Professional advice ensures that your solar panel system is optimized for efficiency and performance.
11. Installation and Maintenance
Once you have selected the right size solar panel system, hire a qualified installer to handle the installation. They will ensure proper placement, wiring, and integration with your existing electrical system. Additionally, familiarize yourself with the maintenance requirements of your solar panels to ensure optimal performance and longevity.
12. Monitor and Optimize Performance
Regularly monitor the performance of your solar panel system to identify any issues or inefficiencies. Utilize monitoring tools and software provided by the manufacturer or installer to track energy production and detect potential problems. Periodically clean the panels and trim any nearby trees or foliage that may cast shadows and reduce energy production.
14. FAQs
Q1: How long does it take to install a solar panel system? The installation time depends on various factors such as system size, complexity, and the installer's schedule. On average, a residential solar panel installation can take anywhere from a few days to a few weeks.
Q2: Can I install solar panels on a flat roof? Yes, solar panels can be installed on a flat roof using mounting systems specifically designed for this purpose. However, it's essential to consider the angle and orientation to maximize sunlight exposure.
Q3: Will solar panels work during a power outage? Grid-tied solar panel systems without battery storage will not work during a power outage. However, if you have an off-grid system with battery backup, you can continue to power essential appliances during an outage.
Q4: How do I maintain my solar panel system? Regular maintenance includes cleaning the panels to remove dust and debris, checking for any signs of damage or shading, and ensuring proper electrical connections. It's recommended to follow the manufacturer's guidelines for maintenance.
Q5: What is the lifespan of solar panels? Solar panels typically have a lifespan of 25 to 30 years or more. However, their efficiency may degrade slightly over time. Most manufacturers provide warranties that guarantee a minimum power output over a specified period.
Conclusion
In conclusion, selecting the appropriate size solar panel system is a crucial decision when transitioning to solar energy for your home. By following the outlined steps and considering factors such as energy needs, roof space, budget, and regional climate, you can ensure an efficient and cost
March 9, 2023
Categories: