Solar for condominium unit owners is growing increasing popularity around the country, as more and more condo owners are adopting to solar, to promote sustainable energy accessibility. If you own a condo unit and want to go solar, there's one key thing you should have in order to make this a reality: MCST Approval
| Key Point | Details |
| --- | --- |
| MCST Approval | Condo owners in Singapore need MCST (Management Corporation Strata Title) approval to install solar panels​​. |
| Solar Panel Cost | Installation costs range from S$15,000 to S$38,000, with a typical 10 kWp residential system costing around S$20,000​​. |
| Larger System Costs | A larger 20 kWp system with 36 panels may cost approximately S$35,000, generating about 25,000 kWh annually​​. |
| Net Metering Limitations | Condo owners cannot participate in net metering due to the master-sub metering system in MCST premises, meaning excess power cannot be sold back to the grid​​​​. |
| Payback Period | The payback period for condo solar panels is longer (~10-20 years) compared to landed homeowners (~5-7 years) due to the inability to sell back excess electricity​​. |
| Selling Back Excess Electricity | Options like registering with SP Services under the Simplified Credit Treatment (SCT) or Enhanced Central Intermediary Scheme (ECIS) are available for selling excess electricity​​. |
| Energy Consumption vs. Generation | Most solar panel systems generate more energy than consumed in a day, but for condo residents, this surplus energy often can't be fully utilized​​. |
| Financial Return Prospects | Despite limitations, installing solar panels in condos can still offer substantial financial returns in certain circumstances​​. |
Solar Condo Legislation
Condo homeowners who intend to install solar panels for their unit must receive consent from their estate's Management Corporation Strata Title (MCST). Typically, this issue may need to be addressed during your estate's Annual General Meeting (AGM). It's recommended to talk with your MCST to explain this procedure. In circumstances when the AGM has past, you may need to wait a full year before acquiring the appropriate permits. This might include a building permit from the Building and Construction Authority (BCA) and management approval from the condominium's Homeowner's Association (HOA).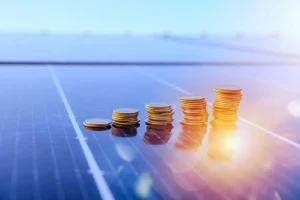 Solar Panel Cost for Condo
Net Metering Limitations
Condominium homeowners should also take note that net metering is not an option for them. This is due to the master-sub metering mechanism in place for MCST premises. This implies you cannot export or sell extra power to the grid.
Energy Flow for Condo Apartments
Under the master-sub concept, a master-metered account measures total power usage for all buildings and facilities, while sub-metered accounts measure individual unit consumption. Common services consumption is determined based on the master reading subtracted by the sub-meters reading.
Solar Energy Flow for Condo Apartments
To export or sell extra solar energy to the grid, it must first reach the grid. However, in the context of the illustration above, any extra power generated by your solar panel will be diverted to other units or common services before it reaches the grid. This makes net metering difficult for condominium homeowners.
Longer Payback Period
With net metering unavailable, you would inevitably miss out on most of the financial benefits of solar. This leads in a longer payback period (~10-20 years), compared to 5 to 7 years for most landed homeowners. In basic terms, it takes significantly longer to recoup your original solar panel investment and start noticing savings on your power bill, as well as income inflow from your solar panel system.
Selling Back Excess Electricity
If you wish to sell excess solar-generated electricity to the grid, there are options like registering with SP Services under the Simplified Credit Treatment (SCT) or Enhanced Central Intermediary Scheme (ECIS), or directly registering with the Energy Market Company as a Market Participant
Solar Energy Consumption versus Generation
For most solar panel owners, your domestic energy usage is generally smaller than the total solar energy generated by your system during the day. This leaves us with extra solar energy . This surplus solar energy may be sold back as electricity to the grid, allowing the owner to gain extra income flow from their solar panels, so contributing to a faster payback period. However, for a condo resident, this means that 50% of solar energy output is wasted savings.
The Silver Lining
Does this indicate that if you fall within this group, you should rule out installing solar panels? While it's true that condo dwellers have limits, there are circumstances when adding solar panels may give a substantial financial return.
1. Your Rooftop Size
A bigger roof area, often surpassing 40 square meters, promotes easier solar panel installation and decreases unit installation costs. As labor costs frequently contribute roughly 50% of the system expenses, a bigger system leads into more substantial cost reductions per unit.
2. Electricity Consumption
If your family currently has significant daytime power use, it might still be profitable to invest in solar panels. Although you can't commercialize surplus solar electricity, the energy generated by the panels can offset your daytime energy usage, mitigating the loss of potential electricity savings.
3. Solar Batteries/Photovoltaic Batteries
For condo owners with reduced daytime energy demand, there is an alternative to net metering. You may store the surplus solar energy created throughout the day and employ it to balance your overnight energy demand.
However, it's vital to remember that the cost of solar batteries remains very expensive at this stage. Typically, including solar batteries adds an extra 40-60% to your entire system prices. For additional in-depth insights regarding solar batteries and energy storage for solar panels for condominiums, check our dedicated post here.
Solar Panel Installation For Condos
For expert guidance on solar solutions tailored to your condo, consider reaching out to First Solution Group. Despite the complexities of condo installations, their team can help you navigate the process, from securing MCST approval to optimizing your system for maximum efficiency. Embrace sustainable energy and make an informed decision about your solar investment with First Solution Group.
Contact us today to explore your options and take a step towards a greener, more cost-effective energy future.
November 29, 2023
Categories: