Solar power is a renewable energy source that has gained significant traction worldwide due to its environmental benefits and cost-efficiency. In Singapore, a city-state known for its rapid urbanization and limited land resources, solar power is an increasingly important component of the energy mix. This article will explore how solar power works in the unique context of Singapore, shedding light on the technologies, policies, and challenges involved in harnessing the power of the sun.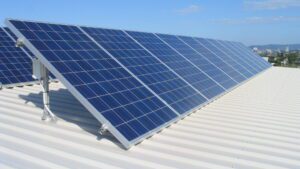 Solar Photovoltaic (PV) Systems
The core of solar power generation in Singapore revolves around solar photovoltaic (PV) systems. These systems work by converting sunlight directly into electricity. The main components of a solar PV system include:
Solar Panels: Solar panels, also known as solar modules or photovoltaic panels, are made up of numerous solar cells. These cells contain semiconductor materials, typically silicon, which can absorb photons from sunlight. When sunlight strikes the solar cells, it excites electrons, generating an electric current.
Inverters: The electricity generated by the solar panels is direct current (DC), while most of our electrical appliances run on alternating current (AC). Inverters are used to convert the DC electricity into AC, making it compatible with the grid and ready for household use.
Mounting Structures: Solar panels need to be securely mounted, typically on rooftops or open spaces, to maximize exposure to sunlight. In Singapore, where land is at a premium, rooftop installations are a common choice.
It's time to be a part of Singapore's green energy movement. First Solution Group offers you the opportunity to reduce your carbon footprint, lower energy costs, and contribute to a more sustainable future. Let our experienced team guide you through the world of solar power.
Contact us now to discover how you can make a positive impact on the environment while enjoying the economic advantages of solar energy. Embrace the sun; embrace the future with First Solution Group.
The Solar Power Generation Process
Typically, silicon or another semiconductor material is used to make solar panels, which are then mounted in a metal panel frame and covered in glass. This material releases electrons and generates an electric charge when it comes into contact with photons, which are minuscule energy packets from sunlight.
The wiring in solar panels detects the electric current—more precisely, the direct current, or DC—that is produced by this PV charge. An inverter is then used to change this DC electricity into alternating current (AC). The electrical current that is utilized when plugging appliances into standard wall outlets is known as AC.
Grid Integration in Singapore
Singapore's small land area has led to the development of a highly urbanized landscape with limited space for large solar farms. Consequently, solar power generation is primarily decentralized and integrated into the existing urban infrastructure. Grid integration is a crucial aspect of Singapore's solar energy strategy.
1. Rooftop Solar Panels
One of the most common forms of solar power generation in Singapore is through rooftop solar panels. Residential, commercial, and industrial buildings across the city-state have adopted solar panels on their rooftops to generate clean energy. The excess electricity generated can be fed back into the grid or stored for later use.
2. Solar Farms
While space is limited, Singapore does have some solar farms. These are typically found in more rural areas, and their solar panels are mounted on the ground rather than rooftops. Solar farms can generate a significant amount of electricity, although their size is limited compared to solar farms in larger countries.
3. Floating Solar Farms
Due to limited land availability, Singapore has also ventured into floating solar farms. These are solar panels mounted on pontoons on reservoirs and water bodies. One notable project is the Tengeh Reservoir Floating Solar Farm, which provides both clean energy and reduces water evaporation.
4. Hybrid Systems
Singapore is exploring innovative approaches, such as hybrid systems that combine solar power with other renewable sources like wind or tidal energy. These systems can enhance energy reliability and reduce the intermittency associated with solar power.
Policy Support and Incentives
The Singaporean government has played a pivotal role in promoting solar power adoption. Various policies and incentives have been introduced to encourage the installation of solar PV systems. Some of the key initiatives include:
1. SolarNova Program
Launched in 2014, the SolarNova program aims to deploy solar PV systems on public sector buildings, including schools, hospitals, and government offices. The program is part of Singapore's commitment to increasing solar capacity to 350 MWp by 2030.
2. Green Mark Scheme
The Building and Construction Authority (BCA) administers the Green Mark Scheme, which awards Green Mark certifications to buildings that incorporate sustainable and energy-efficient features. Buildings with solar panels are eligible for higher Green Mark ratings.
3. Net Metering
Singapore's net metering policy allows solar PV system owners to export excess electricity back to the grid. This excess energy is credited to the consumer's electricity bill, effectively reducing energy costs.
4. Carbon Pricing
Singapore has implemented a carbon pricing system, which includes a carbon tax. This incentivizes businesses and industries to reduce their carbon emissions and explore cleaner energy sources like solar power.
Overcoming Challenges
Despite the favorable conditions for solar power in Singapore, several challenges persist:
1. Limited Land Resources
Singapore's small land area is a significant constraint. Maximizing the use of rooftops, water bodies, and other available spaces is crucial.
2. High Installation Costs
While the price of solar panels has decreased, installation costs can still be substantial. Government incentives help mitigate these costs, but further reductions are needed for wider adoption.
3. Grid Integration
Efficient grid integration and storage solutions are necessary to balance the intermittent nature of solar power and ensure a reliable energy supply.
4. Environmental Impact
Solar farms and floating solar systems can impact ecosystems in and around reservoirs. Balancing environmental conservation with clean energy generation is essential.
The Future of Solar Power in Singapore
Solar power in Singapore is on a growth trajectory. As technology advances and costs continue to decline, the adoption of solar PV systems is expected to increase. The government's commitment to sustainability and clean energy, as outlined in the Singapore Green Plan 2030, will further drive this transition.
In conclusion, solar power in Singapore relies on the capture of sunlight through photovoltaic systems, its conversion to electricity, and integration into the grid. With innovative policies, incentives, and emerging technologies, Singapore is harnessing the power of the sun to reduce its carbon footprint and ensure a sustainable energy future.
At First Solution Group, we understand the transformative power of solar energy in Singapore. Our expert team is dedicated to helping you embrace clean, sustainable power with our top-notch solar panel installation services. Whether you're a homeowner, a business owner, or an industrial facility, we have tailored solutions to fit your unique needs. Don't miss out on the environmental and financial benefits of solar power.
Contact us today to embark on your journey towards a greener, more cost-effective energy future.
October 23, 2023
Categories: