As a homeowner in Singapore, you're likely aware of the need for more sustainable and cost-effective energy solutions. One of the options that might have crossed your mind is the installation of solar panels. These panels have gained popularity worldwide for their ability to harness clean, renewable energy from the sun. But how efficient are solar panels in Singapore? This article will delve into the world of solar panels, explore the factors affecting their efficiency, and look at what the future holds for solar energy in the Lion City.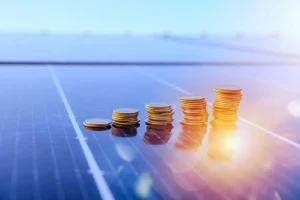 As a homeowner interested in environmentally friendly and cost-effective energy options, you may have wondered about the effectiveness of solar panels. In summary, residential solar panels typically operate with an efficiency rate ranging from approximately 15% to as high as 20%, but it's worth noting that individual solar cell efficiency can reach as high as 42% in some cases. Ongoing technological advancements aim to further improve solar panel efficiency.
Factors Affecting Solar Panel Efficiency
Types of Solar Panels
The efficiency of solar panels in Singapore depends on various factors, with the type of panels being a crucial consideration. There are primarily three types of solar panels:
Monocrystalline Solar Panels: These panels are known for their high efficiency and sleek appearance. They are made from a single crystal structure, which gives them an edge in energy conversion. Monocrystalline panels typically have an efficiency range of 15-20%.
Polycrystalline Solar Panels: While these panels are slightly less efficient than monocrystalline ones, they are more cost-effective. Polycrystalline panels have an efficiency rate of approximately 15-17%.
Thin-Film Solar Panels: These panels are recognized for their flexibility and lightweight design. However, they tend to have a faster degradation rate compared to the other two types. Thin-film panels generally have an efficiency range of 15-20%.
Each type has its pros and cons, and the choice depends on your budget, energy needs, and aesthetic preferences. Monocrystalline panels offer the highest efficiency but come at a higher price point. Polycrystalline panels are budget-friendly but slightly less efficient. Thin-film panels are versatile but may degrade faster over time.
Solar Panel Efficiency Under Extreme Conditions
Singapore's climate is known for its tropical weather conditions, and solar panels are exposed to various environmental factors. Here's a look at how these conditions can affect solar panel efficiency:
Wind
While the wind can help cool down solar panels, increasing their efficiency slightly, it doesn't pose a significant threat to their performance. When the panels are cooled by just one degree, their efficiency can improve by 0.05%.
Hail
Hail testing involves firing artificial hail at high speeds, typically between 20 to 30 m/s. Solar cells have shown resilience at these speeds. According to the National Renewable Energy Laboratory (NREL), only 0.1% of all solar energy systems installed between 2009 and 2013 in the United States have either underperformed or been damaged during hailstorms. Solar panels are designed to withstand extreme weather conditions, including hail.
Chemical Residue
Chemical residue, like boron oxide, can form on the panel surface due to exposure to initial sunlight. This residue can reduce efficiency by 1-3% within the first 1,000 hours of operation. Regular cleaning can mitigate this issue.
UV Degradation
Solar cell structures can experience delamination due to UV-induced degradation. This process can result in the discoloration of individual solar cells and lead to a reduction in efficiency by 1-3% within the first 1,000 hours.
Damp Heat Testing
Damp heat testing assesses the resistance of solar panels to moisture. In weak materials, current leakage can occur on the edges of the solar panel, reducing efficiency. High-quality panels are designed to resist moisture.
Mild Haze
In mild haze conditions, the reduction in efficiency might be around 5-10%. This means that if your solar panels typically operate at 15-20% efficiency, they might temporarily operate at 13.5-18% efficiency during mild haze.
Moderate to Severe Haze
During more severe and prolonged haze episodes, the reduction in efficiency can be more substantial, possibly in the range of 10-30%. In this scenario, if your solar panels typically operate at 15-20% efficiency, they might operate at 10.5-13.5% efficiency.
In Singapore, where tropical weather dominates, understanding how these extreme conditions impact solar panels is essential when considering an installation. However, solar panels are designed to endure most of these conditions, making them a viable and robust choice for sustainable energy.
Curious about how solar panels can benefit your home in Singapore? At First Solution Group, we offer a complimentary solar assessment to help you understand the potential of solar energy for your property. Our team of professionals will evaluate your energy needs, assess your location's suitability for solar, and provide you with a personalized plan. Don't miss the opportunity to save on energy costs and reduce your carbon footprint.
Get in touch with us today to schedule your free solar assessment and take the first step towards a more sustainable future.
Testing and Certification
Solar panels available in the Singapore market undergo rigorous testing to ensure quality and long-term efficiency. While laboratory conditions can result in solar cell efficiency reaching impressive rates, such as 42%, these conditions often differ significantly from real-life scenarios, making them not directly applicable to residential users. Thus, solar panels undergo extensive testing to ensure their performance under real-world conditions.
Solar cell efficiency are typically tested in state-of-the-art, fully automated solar panel testing facilities. This high standard in testing allows categorization of solar panel efficiency in groups with similar power outputs. When considering solar panel options, it's crucial to choose those that have undergone comprehensive testing and are certified to meet industry standards.
Choosing Solar Panels
Key Attributes to Consider
Selecting the right solar panels for your Singaporean home involves evaluating several key attributes:
1. Cost
The cost of solar panels can vary significantly. Consider your budget and find a balance between upfront costs and long-term savings.
2. Solar Panel Efficiency
Efficiency is a critical factor. While high-efficiency panels produce more energy, they may come at a higher price. Evaluate the trade-off between efficiency and cost.
3. Lifespan
The lifespan of individual solar cells is essential for maximizing your investment. Durable panels offer long-term energy savings.
4. Aesthetics
Consider the appearance and style of the solar panels, as they will be a visible addition to your home. Find panels that complement your property's aesthetic.
These attributes should guide your decision-making process when choosing solar panels. It's important to strike a balance between efficiency, cost, and aesthetics to ensure you make a sustainable and financially sound choice for your home.
Solar Panel Efficiency vs Cost
Solar cell efficiency doesn't directly equate to the efficiency of the entire solar panel system. While solar panel efficiency typically falls in the range of 15-20%, some solar cells can reach up to 42% efficiency under laboratory conditions. However, these laboratory conditions differ from real-life scenarios and may not be directly applicable to residential users.
For many homeowners in Singapore, it's crucial to find a balance between efficiency and cost. While high-efficiency panels produce more energy, they can be more expensive. On the other hand, slightly less efficient panels may be more budget-friendly. Ultimately, the choice depends on your energy needs and budget.
Installation Considerations
Maximizing the efficiency of your solar panels starts with the installation process. Consider the following factors:
1. Tilt and Orientation
The angle at which your solar panels are installed affects their efficiency. The right tilt and orientation ensure optimal exposure to sunlight throughout the day.
2. Shade
Minimize shading on your solar panels as much as possible. Even partial shading can significantly reduce their efficiency.
3. Maintenance
Regular maintenance, including cleaning, is crucial for keeping your solar panels operating at peak efficiency. Dust, dirt, and debris can accumulate on the panels, affecting energy production.
4. Energy Storage
Consider incorporating energy storage solutions, such as solar batteries, to store excess energy generated during the day for use in the evenings. This can reduce your reliance on the grid and enhance your energy independence.
Understanding these installation considerations can help you maximize the efficiency and longevity of your solar panel system. A well-planned installation ensures you get the most out of your investment in clean and sustainable energy.
This marks the end of the first part of the article. In the subsequent sections, we will explore more aspects of solar panel efficiency in Singapore, including the future of solar panel technology and the role it plays in creating a sustainable and cost-effective energy solution.
The Future of Solar Panel Efficiency
Solar panels have come a long way in terms of efficiency, and the future holds promising advancements in this technology. In Singapore, these developments are particularly exciting as they offer the potential for more cost-effective and efficient solar power modules. Let's explore what the future of solar panel efficiency in Singapore may look like:
Advancements in Solar Panel Technology
As the demand for sustainable energy solutions continues to rise, so does the investment in solar panel technology. Manufacturers and researchers are continually working on innovations to enhance the efficiency and performance of solar panels. Here are some of the expected advancements:
1. Increased Efficiency
Researchers are working on improving the conversion efficiency of solar panels, allowing them to capture more energy from the same amount of sunlight. This means that future solar panels in Singapore will produce more electricity for the same installation area, making them even more cost-effective.
2. Enhanced Durability
The durability of solar panels is a critical aspect, especially in regions with diverse weather conditions like Singapore. Future panels are expected to be even more robust, with improved resistance to extreme weather, humidity, and UV degradation.
3. Integration with Smart Grids
The integration of solar panels with smart grids is a significant trend. This will allow solar panel owners to sell excess energy back to the grid and enhance energy sharing among users. Smart grids also enable better monitoring and control of solar panel systems.
4. Sustainable Materials
Solar panel manufacturers are increasingly focusing on sustainability. Future panels may use materials that are more environmentally friendly, and the production process may become more energy-efficient.
5. Bifacial Panels
Bifacial solar panels are designed to capture sunlight from both the front and rear sides, increasing their overall efficiency. These panels are already available and are expected to become more widespread in Singapore.
6. Conversion Technologies
Advances in solar cell technologies, such as multi-junction cells and tandem cells, have led to increased efficiency. Multi-junction cells are designed to capture a wider range of the solar spectrum and can achieve efficiencies of over 40% in laboratory conditions.
These advancements are not distant possibilities but represent ongoing developments in the solar energy industry. As a homeowner in Singapore, staying informed about these innovations can help you make more future-proof choices for your energy needs.
Sustainability and Longevity
The future of solar panel efficiency is closely tied to sustainability and longevity. Sustainable practices in solar panel production and disposal are becoming increasingly important. The longer a solar panel lasts and the more energy it generates, the greater the environmental benefits and cost savings.
Solar panels are designed to be a long-term investment. With proper maintenance and care, they can last for many years. This longevity ensures that the environmental impact of manufacturing and installing the panels is justified by the clean energy they produce over their lifespan.
The choice of high-quality panels that have undergone rigorous testing and certification plays a crucial role in ensuring the longevity and sustainability of your solar panel system. Additionally, exploring recycling options for old panels can further contribute to sustainable practices.
In conclusion, the future of solar panel efficiency in Singapore looks bright. Advancements in technology, increased efficiency, and sustainability practices are all contributing to a more environmentally friendly and cost-effective energy solution for homeowners.
Are you ready to harness the full potential of solar energy in Singapore? First Solution Group is your trusted partner for solar panel installations. Our expert team is equipped to provide you with the latest, high-efficiency solar panels, ensuring you maximize your energy production and savings. With cutting-edge technology and a commitment to sustainability, we are here to help you make the most of solar power.
Contact us today to embark on your journey to a cleaner, greener future with solar energy.
October 24, 2023
Categories: