Key Takeaways
| Aspect | Tesla Powerwall (Solar Storage System) | Trina Solar Panels (Solar Panel) |
| --- | --- | --- |
| Cost | Initial investment is high but may be offset by long-term savings and incentives. | Varies depending on the model and size of the installation. Typically requires a significant upfront investment. |
| Efficiency | Known for efficient energy storage with minimal energy loss over time. | High energy conversion rates, maximizing solar energy generation. |
| Integration | Highly integrated with Tesla's solar panels, providing an all-in-one solution. | Compatible with various inverters and energy storage systems, but potential compatibility issues. |
| Space Requirements | Compact design ideal for limited rooftop space. | Requires more rooftop space for installation. |
In the ever-evolving world of renewable energy, two prominent players have gained considerable attention in Singapore: Tesla Powerwall and Trina Solar Panels. Both offer innovative solutions to harness and store solar energy, but they differ significantly in their technologies, features, and applications. This article aims to compare and contrast these two systems within the context of Singapore, shedding light on the benefits and drawbacks of each to help consumers make an informed decision.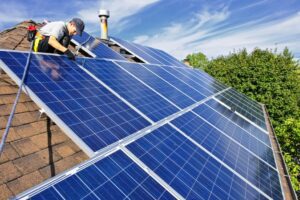 The Green Shift in Singapore
Before diving into the comparison, it's essential to understand why Singapore is ripe for renewable energy solutions. As a small, densely populated city-state, Singapore faces unique challenges when it comes to energy sustainability. With limited land resources, the nation has been increasingly looking to rooftop solar panels and energy storage systems to reduce its reliance on fossil fuels and lower carbon emissions.
Singapore's government has actively promoted the adoption of solar energy, offering incentives and subsidies to encourage residential and commercial entities to invest in solar panels and energy storage solutions. This support has led to a growing interest in systems like Tesla Powerwall and Trina Solar Panels.
Are you ready to make a sustainable energy choice for your home or business in Singapore? Join the renewable energy revolution with First Solution Group! We specialize in the installation of solar panels and energy storage solutions, offering both Tesla Powerwall and Trina Solar Panels. Whether you prioritize energy efficiency, seamless integration, or space-saving designs, we have the expertise to guide you towards the best choice for your unique needs.
Contact us today to schedule a consultation and take the first step towards a greener, more sustainable future.
Tesla Powerwall: Powering Singapore's Future
Key Features
Tesla Powerwall is a household name when it comes to energy storage solutions. This sleek, lithium-ion battery system is designed to store excess solar energy for later use. Here are some of its notable features:
Scalability: Tesla Powerwall is highly scalable, allowing users to install multiple units to meet their specific energy storage needs.
Integration: It seamlessly integrates with solar panel systems and can be used in both grid-tied and off-grid setups.
App Control: Tesla's user-friendly app enables homeowners to monitor their energy consumption and control their Powerwall remotely.
Power Backup: During power outages, the Powerwall can provide backup power, keeping essential appliances running.
Advantages
Reliability: Tesla Powerwall is renowned for its reliability and durability, ensuring a consistent energy supply even during adverse weather conditions.
Efficiency: It boasts a high energy efficiency rating, meaning more of the stored energy can be used when needed.
Design: Tesla's focus on design extends to the Powerwall, making it a stylish addition to any home.
Seamless Integration: The Powerwall works seamlessly with Tesla's solar panels, optimizing energy generation and storage.
Drawbacks
Cost: One of the primary drawbacks is the initial cost of the Powerwall, which can be a significant investment for many homeowners.
Installation: Installation may require professional assistance, adding to the overall cost.
Trina Solar Panels: Harnessing Solar Energy
Key Features
Trina Solar, a global leader in photovoltaic technology, offers a range of solar panels suitable for residential and commercial applications. Some of the key features of Trina Solar Panels include:
High Efficiency: Trina's panels are known for their high energy conversion rates, making them a reliable source of energy.
Diverse Product Line: Trina Solar offers a variety of solar panels, catering to different needs and budgets.
Warranty: Their panels typically come with 25 year warranties, ensuring long-term reliability.
Eco-Friendly: Trina Solar Panels are designed with sustainability in mind, reducing the carbon footprint of solar power generation.
Advantages
Energy Efficiency: Trina's panels are among the most efficient in the industry, ensuring that you get the most energy out of your rooftop installation.
Variety: Trina Solar offers a wide range of panels, allowing consumers to choose the one that best fits their energy needs and budget.
Sustainability: The company is committed to environmental sustainability, making it an appealing choice for eco-conscious consumers.
Longevity: The extended warranty on Trina panels provides peace of mind, knowing that your investment is protected.
Drawbacks
Compatibility: While Trina Solar Panels work well with various inverters, some users may find compatibility issues with certain energy storage solutions, including the Tesla Powerwall.
Space Requirements: The installation of Trina Solar Panels may require more rooftop space to generate a sufficient amount of energy, which could be a constraint for some homeowners in Singapore's limited space.
Comparing the Two
Cost
Cost is a significant consideration for most homeowners in Singapore. Tesla Powerwall, with its high-quality engineering and advanced features, comes at a premium price. However, it's essential to consider the long-term savings and potential government incentives that can offset the initial investment. Trina Solar Panels vary in cost, depending on the specific model chosen and the size of the installation. While they may be more budget-friendly, they still require a significant upfront investment.
Efficiency
Both Tesla Powerwall and Trina Solar Panels offer high levels of efficiency. Tesla's Powerwall is known for its efficient energy storage, ensuring minimal energy loss over time. Trina Solar Panels, on the other hand, are acclaimed for their high energy conversion rates, maximizing the energy generated from sunlight.
Integration
Tesla Powerwall is designed to work seamlessly with Tesla's solar panels, providing a highly integrated solution. Trina Solar Panels, while compatible with various inverters and energy storage systems, might have compatibility issues with certain solutions. Therefore, for those looking for an all-in-one package, Tesla's ecosystem might be a more straightforward choice.
Space Requirements
Space is a critical consideration in Singapore, where rooftop space is limited. Trina Solar Panels require more space for installation compared to Tesla's solar panels, which are known for their compact design. Homeowners with limited rooftop real estate might find Tesla's panels more suitable.
Conclusion
In the evolving landscape of renewable energy solutions in Singapore, both Tesla Powerwall and Trina Solar Panels have their strengths and weaknesses. The choice between these two technologies ultimately depends on your specific needs, budget, and the space available for installation.
For those who prioritize energy storage, reliability, and seamless integration, the Tesla Powerwall may be the ideal solution. Its efficient power storage and backup capabilities make it an excellent choice for homeowners and businesses looking to reduce their carbon footprint while ensuring a reliable energy supply.
On the other hand, Trina Solar Panels excel in energy generation, offering highly efficient photovoltaic solutions. These panels are a solid choice for those with ample rooftop space and a primary focus on harnessing solar energy.
Ultimately, the decision between Tesla Powerwall and Trina Solar Panels should be based on a careful assessment of your energy needs, space constraints, and budget. Consulting with renewable energy experts and exploring government incentives and subsidies can help you make an informed decision that benefits both your wallet and the environment.
Make your mark on Singapore's clean energy landscape today! First Solution Group is your trusted partner for environmentally friendly, cost-effective solar solutions. With government incentives and subsidies, now is the perfect time to invest in solar panels and energy storage. Join the thousands of satisfied customers who have reduced their carbon footprint and energy bills.
Contact First Solution Group today to get started on your journey towards a cleaner, more sustainable future for Singapore. Don't miss out on this opportunity to be part of the renewable energy movement.
Additional Resources:
October 24, 2023
Categories: