Solar energy has become an increasingly popular choice in Singapore as individuals and businesses seek sustainable and cost-effective solutions. When it comes to solar panels, two prominent brands, Maxeon and Trina, stand out. This article will provide an in-depth comparison of Maxeon and Trina solar panels in the context of Singapore, helping you make an informed decision for your energy needs.
Solar Energy in Singapore
Singapore, with its year-round sunshine, is an ideal location for harnessing solar energy. The government's commitment to sustainability and clean energy has further boosted the adoption of solar panels. As a result, the solar market in Singapore has seen significant growth, and consumers have a plethora of options to choose from.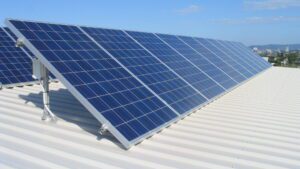 Understanding Maxeon Solar Panels
Maxeon Solar Technologies is a global leader in solar innovation. Their high-efficiency solar panels are renowned for their quality and performance. Maxeon panels are manufactured using unique technology, which involves a solid copper foundation, making them exceptionally durable and efficient. They are also known for their aesthetic appeal, making them a popular choice among residential users in Singapore.
Maxeon Solar Panel Features
High Efficiency: Maxeon panels are among the most efficient in the industry, ensuring you get the most power from your roof space.
Durability: The solid copper foundation and robust design enhance longevity, particularly important in Singapore's weather conditions.
Aesthetics: Their sleek, all-black design complements the appearance of modern buildings.
Exploring Trina Solar Panels
Trina Solar, on the other hand, is a global solar industry giant known for its reliability and affordability. Their panels are designed to deliver consistent performance over time. Trina's commitment to research and development has made them a trusted choice for both residential and commercial solar installations in Singapore.
Trina Solar Panel Features
Proven Reliability: Trina panels have a reputation for consistent performance over the long term, ensuring a stable energy supply.
Affordability: They offer a cost-effective solution, which is attractive to budget-conscious consumers.
Warranty: Trina provides robust warranties to guarantee the quality of their products.
Elevate your energy game in Singapore with First Solution Group. As the demand for solar energy continues to rise in this sun-kissed nation, your choice between Maxeon and Trina panels has never been more critical. We're your trusted partner in this journey, offering professional installation, expert advice, and top-notch service. Join the solar revolution, reduce your carbon footprint, and save on electricity bills.
Contact us now to explore our solar panel solutions and transform your space into an eco-friendly powerhouse with First Solution Group!
Key Factors for Comparison
To help you decide between Maxeon and Trina solar panels, it's essential to consider various key factors:
1. Efficiency
Maxeon & Trina panels are known for their exceptional efficiency, boasting one of the highest conversion rates in the industry. This means you can generate more power with fewer panels, making them an excellent choice for limited roof space.
| Company | Max Efficiency Rating | Temperature Coefficient | Length of Production Warranty | Guaranteed Production at 25 Years | All-Black Model? |
| --- | --- | --- | --- | --- | --- |
| Maxeon (SunPower) | 22.80% | -0.29% | 25 years | 92% | Yes |
| Trina | 21.80% | -0.34% | 25 years | 84.80% | Yes |
2. Durability
In the context of Singapore's weather conditions, durability is a crucial factor. Maxeon's and Trina Solar Panels' solid copper foundation makes their panels exceptionally robust and resistant to corrosion.
3. Aesthetics
The appearance of solar panels matters, especially for residential users. Maxeon's sleek all-black design is often considered more visually appealing. Trina panels have a conventional appearance but are still suitable for most installations.
4. Cost
Trina panels are generally more budget-friendly, making them a popular choice for those looking to save on initial investment. Maxeon panels, while efficient and durable, can come at a higher price point.
5. Warranty
Both Maxeon and Trina offer warranties to safeguard your investment. Maxeon's warranty is known for its comprehensive coverage, while Trina also provides solid warranty options, ensuring peace of mind for the long term.
Final Considerations
The choice between Maxeon and Trina solar panels in Singapore depends on a variety of factors, including your budget, space availability, aesthetic preferences, and commitment to sustainability. It's essential to assess your unique needs and priorities when making a decision.
Maxeon stands out for its exceptional efficiency, aesthetics, and durability. It's an excellent choice for those who prioritize long-term performance and have a higher initial budget.
Trina offers a reliable and budget-friendly alternative, making it a popular choice among those looking to save on upfront costs while still reaping the benefits of solar energy.
Before making a decision, consult with a trusted solar panel installer in Singapore who can provide personalized advice based on your specific circumstances.
The growth of the solar industry in Singapore indicates a bright future for clean energy adoption. Whether you choose Maxeon or Trina solar panels, you're contributing to a sustainable and environmentally friendly future for yourself and the nation.
In conclusion, both Maxeon and Trina solar panels have their merits, and your choice should align with your unique requirements and preferences. Make the decision that best suits your budget, energy needs, and long-term vision for sustainability in the beautiful city of Singapore.
Ready to make a sustainable choice for your energy needs in Singapore? Whether you're drawn to the high efficiency and sleek aesthetics of Maxeon panels or the budget-friendly reliability of Trina panels, First Solution Group is here to turn your solar dreams into reality. Our experts will guide you through the selection process, ensuring that your solar installation aligns perfectly with your goals. Take the first step towards a greener, more cost-effective future.
Contact First Solution Group today and let's power up your world with solar energy!
October 23, 2023
Categories: